Finished
WOMEN
6
4
CC vs MM
Nov. 25 10:00 am
Finished
MEN Div. I
4
0
CPA vs MM
Nov. 25 10:00 am
Finished
MEN Div. I
1
2
RR vs LJR
Nov. 25 10:30 am
Finished
MEN Div. II
4
2
BM vs HE
Nov. 25 12:00 pm
Finished
MEN Div. I
4
3
RR vs MM
Nov. 25 2:00 pm
Redmen and Matadors will play in Div. I final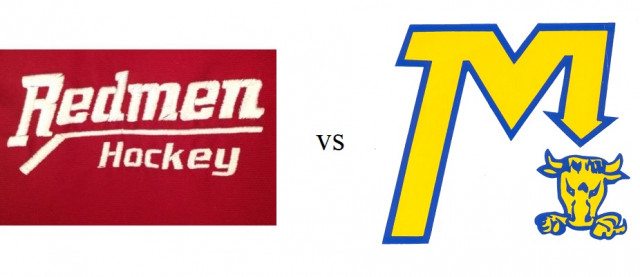 Sunday November 25, 2018
The Riverview Redmen scored twice in the last 5 minutes to edge the Louis-J.-Robichaud Patriotes 2-1 to earn a spot in the Division I final against the Mathieu-Martin Matadors who defeated the C.P. Allen Cheetahs 4-0. The final will be played at 2:00pm at Avenir Centre.
Did you like this article? Share it!
x
Term of use Shark Media & Sport
The content of this site is private and purely informative. The rights of a visitor to this site cannot, therefore, be derived from the content of this website. This website is operated by and was created by SHARK MEDIA & SPORT. The data contained within this website are the intellectual property of and are copyright-protected. The data herein cannot be copied or reproduced without the prior consent of or SHARK MEDIA & SPORT, other than in contexts requiring on-line searches. However, you may print out entire pages of this site for personal use. For further information about the use of this site, please communicate with SHARK MEDIA & SPORT.