Finished
WOMEN
6
4
CC vs MM
Nov. 25 10:00 am
Finished
MEN Div. I
4
0
CPA vs MM
Nov. 25 10:00 am
Finished
MEN Div. I
1
2
RR vs LJR
Nov. 25 10:30 am
Finished
MEN Div. II
4
2
BM vs HE
Nov. 25 12:00 pm
Finished
MEN Div. I
4
3
RR vs MM
Nov. 25 2:00 pm
Matadors take Div. I banner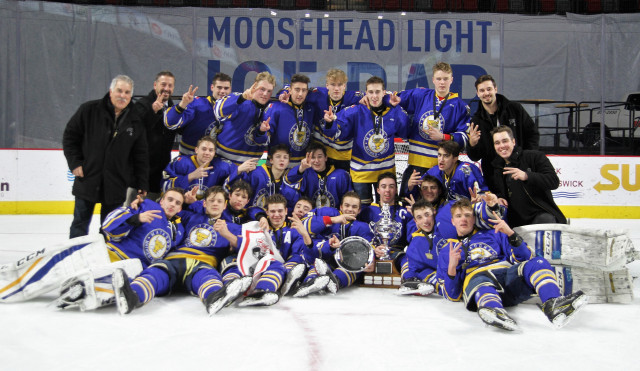 Sunday November 25, 2018
Alex Melanson scored twice, including the winning goal, to help the Mathieu-Martin Matadors to claim the Division I banner with a 4-3 victory over the Riverview Redmen. Christian Richard and Connor Vande Meerakker completed the scoring for the Matadors while Andrew McCarron and Bryden Johnston replied for the Redmen. Jérémie LeBlanc defended the Matadors net while Michael MacMullen was the goaltender for the Redmen.
The Hants East Tigers got two third period goals from Sean Morrison to defeat the Bernice MacNaughton Highlanders 4-2 in the Division II final. Garrett Surette and Ben Shields also scored for the Tigers. The Highlanders goals came from Colby Titus and Liam Llewellyn. Logan Miles of the Tigres and Tommy Rollin of the Highlanders were their respective team's goaltender.
(Photo Normand A. Léger)
Did you like this article? Share it!
x
Term of use Shark Media & Sport
The content of this site is private and purely informative. The rights of a visitor to this site cannot, therefore, be derived from the content of this website. This website is operated by and was created by SHARK MEDIA & SPORT. The data contained within this website are the intellectual property of and are copyright-protected. The data herein cannot be copied or reproduced without the prior consent of or SHARK MEDIA & SPORT, other than in contexts requiring on-line searches. However, you may print out entire pages of this site for personal use. For further information about the use of this site, please communicate with SHARK MEDIA & SPORT.